5) Victoria Falls Bungee, Zimbabwe/Zambian border (110m/360feet):

A bit of a controversial choice as this has featured quite heavily in the new recently when a girl's bungee cord snapped! Also, it's not in the top 5 highest bungees in the world but it's gotta be the most beautiful. 111M of sheer fear as you jump of Victoria Bridge, into a circular rainbow thanks to the mist caused by the falls. When your finished you can see Victoria falls as your backdrop, nothing short of amazing.
PRICE: around $110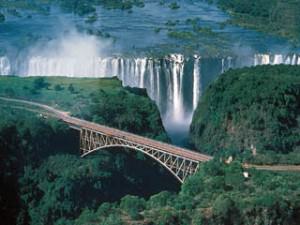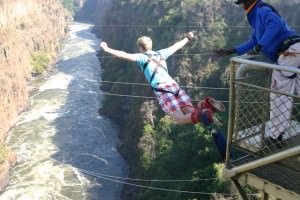 Me jumping at Victoria Falls. Arggggggggh...
4) Bloukrans Bridge, South Africa – (216 m/708 feet):
The world's highest single span arch bridge, the Bloukrans Bridge bungee is the third highest bungee in the world at 708 feet (216 m). It's also the highest point in the world from which you can bungee off, and formally the highest bungee jump in the world.
PRICE: around $100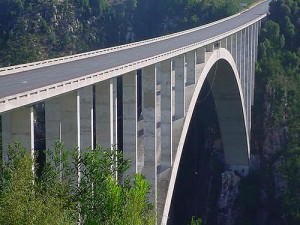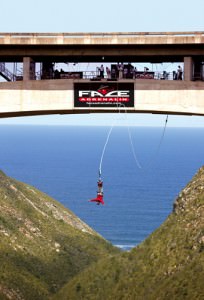 3) Verzasca Dam, Switzerland – (220 m/720 feet):
It found mainstream fame with the opening sequence of the Bond movie Goldeneye, the Verzasca dam offers a pure freefall swinging bungee from a single cord. If banging into a massive concrete structure at a top speed doesn't scare you, then this is the jump for you. The Verzasca Dam bungee jump is the second highest bungee jump in the world.
PRICE: $280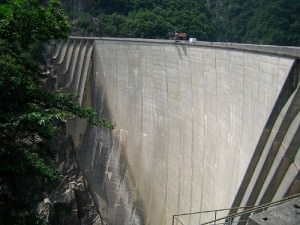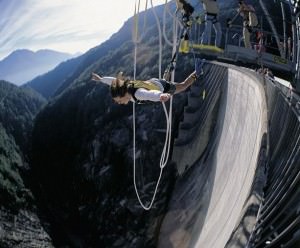 2) Macau Tower, China – (233 m/760 feet):
The tallest, highest bungee jump in the world! 6 seconds of unadulterated freefall from the 11th tallest building in the world. It doesn't come cheap but it grants you automatic bragging rights forever. With the 'right' conditions you can find yourself stretching to just 30m from the ground.
PRICE: $300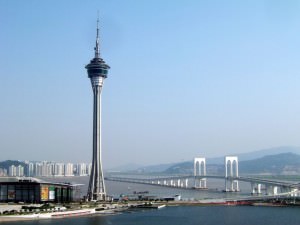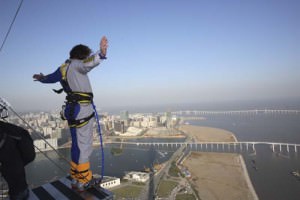 1) Volcano Bungee near Pucon, Chile (250m/820 feet):
The price isn't exactly backpacker friendly but basically you get flown up to an active volcano in a helicopter, soaring some 10,000 feet in the air, jumpers sit perched on a helicopter's skid and then you have to bungee jump off the helicopter into the caldera towards the molten lava. The cord stretches between 350 and 375 feet, leaving jumpers hanging just 700 feet above the volcano Pretty amazing stuff.
PRICE: A disgustingly, prohibitively expensive $9,995 for a 6 day package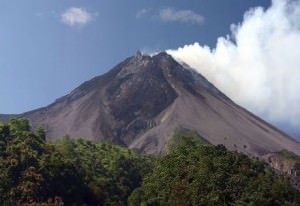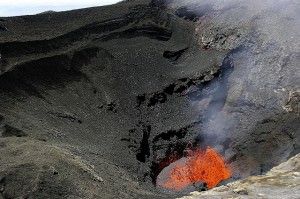 Honourable mention:
The Royal Gorge Bridge, Colordo (321m/1053 feet):
Technically, it can be considered the highest bungee in the world but very few people have ever jumped from the bridge, it's not open to the public and it's only available every now and again. Often used to break records sporadically.
PRICE: Unavailable to general public. Booooooo.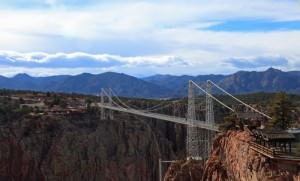 River Nevis, New Zealand (134m/440 feet)
If you're on the backpacking trail in New Zealand, a bungee jump over the roaring River Nevis is not to be missed. From a teetering cable car, high over the Nevis River, you enter the jump pod and soak in the rugged scenery. This is the highest bungee jump spot in all of New Zealand, so all New Zealand Holidays should try to factor this beauty in. The freefall lasts for almost 9 seconds and will allow those who jump to see the full extent of this area's beauty.
PRICE:$200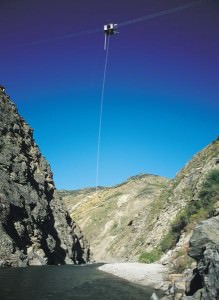 Credits: http://onestep4ward.com/